Good afternoon, It is with sadness that I tell you of the passing of Mr. Albert Wenger (73), Mr. Wenger was the storeroom supervisor until his retirement. Please keep his family in your thoughts and prayers during this difficult time.

You can send a card or note of sympathy to his wife Cheryl
Cheryl Wenger
238 Newburg Road
Newburg, PA
Obituary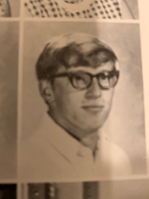 Albert J. Wenger, 73, of Newburg, and formerly of Scotland, Shippensburg and Mt. Holly Springs, passed away Friday, July 23, 2021 at home.
He was born Thursday, January 1, 1948 in Chambersburg, PA. Albert was a son of the late Orville R. and Helen G. (Furry) Wenger.
Albert retired from Scotland School for Veteran's Children where he was a storeroom supervisor. He was a member of the Scotland School Alumni, a member of AARP, and a 1966 graduate of the Chambersburg Area Senior High School.
He enjoyed fishing, hunting, boating, going to the beach, and especially spending time with his granddaughters. He was an avid fan of the Philadelphia Phillies and Eagles, and a NASCAR fan.
Albert is survived by his wife, Cheryl L. (Redinger) Wenger; one son, Douglas A. Wenger of Newburg; and three granddaughters, Makenzie, Kara and Jasmine Wenger, all of Carlisle; and a favorite furry friend, Cassie.
Thank you Mr. Drew White (SSVC Maintenance Department) and Mary Shoap Rowe '66 for sharing the news of Mr. Wenger's passing.
Scotland Family Forever!

Your Scotland Sister,
Vickie "Portner" Cook '73
Secretary
SSVC Alumni Association
GoCadets2015@comcast.net
717-698-8905 (Please leave a message)
www.ssvcalumni.org (check it out)